Godox VDS-M1 Shotgun Microphone
€149.99
This is the perfect microphone for interviews, close-up recordings and "talking head" set-ups such as Youtube videos.
It can be mounted on mic stands or on cameras, uses an XLR output and an XLR to 3.5mm cable is provided.
Select between heart-shaped cardioid pick-up, ideal for capturing subjects speaking at the camera, or Godox's Supercardioid which narrows the angle of sensitivity to block out sound coming from the sides, such as in a busy room.
A good investment!
As always, lackluster footage can often be rescued but you'll make your life so much easier by capturing the sound right from the get-go with a good mic such as the Godox VDS-M1 Shotgun Microphone.
Microphone DOES NOT come with accessory to mount to camera hot-shoe. We are working on finding a solution at the moment.
Awaiting restock delivery. This item may still be ordered, and will be supplied as promptly as possible
Join Waitlist
We will inform you when the product arrives in stock. Please leave your valid email address below.
Directionality selection – Cardioid mode allows the mic to pick up the sound source it is pointed at. Its heart-shaped response type enable rich, natural sound while rejecting background noise behind the mic. Supercardioid is a more directional mode that rejects ambient noise from the sides of the microphone to provide focused pickup of the source. It offers increased isolation from extraneous sound and elevated resistance to feedback.
Electrostatic Condenser Head – The VDS-M1's condenser capsule is highly sensitive, so it can capture low-level sounds while maintaining low self-noise.
XLR Output – Its balanced XLR 3-pin output connector excels in long-distance signal transmission, allowing the mic to work in wired or wireless configurations.
Wide Compatibility – The VDS-M1 includes an XLR to 3.5mm microphone cable and a 3.5mm to 1/4″ adapter. As a result, it can be used with an array of devices such as cameras, camcorders, computers, portable recorders, mixers, and more.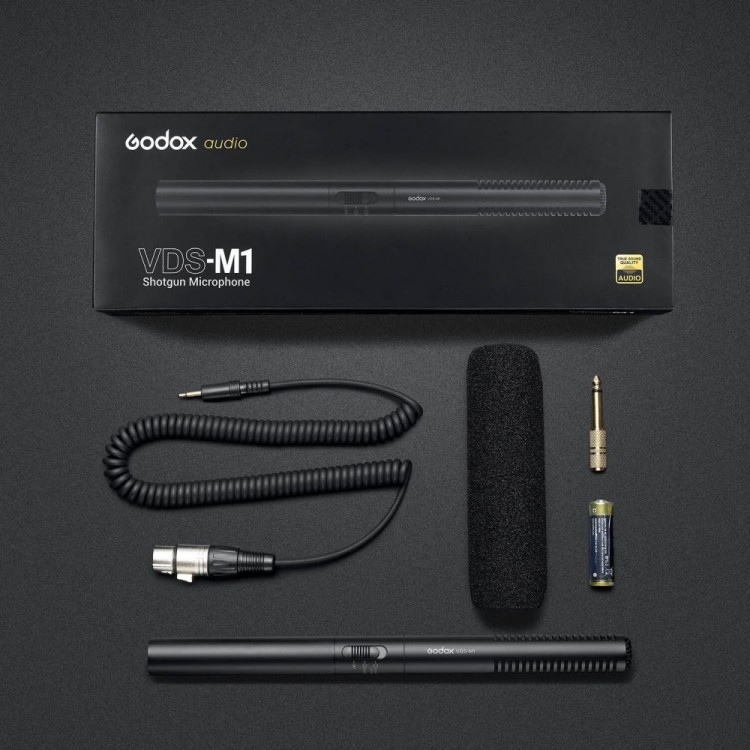 In the Box:
VDS-M1 Shotgun Microphone
Windscreen
XLR to 3.5mm Mic Cable
3.5mm to 1/4″ Adapter
AA Battery
Carrying Bag
Original packaging